This unit is out of production.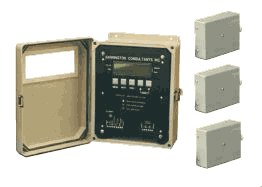 The model TD-2 is a solid state device that monitors differential temperature between the transformer main tank and two load tap changer (LTC & Diverter) compartments. The unit is SCADA ready and provides alarming for dual differential temperatures. The TD-2 is designed for easy installation on transformers and requires no internal tank connections. Displays are .39" backlit LCD's that continuously display all four temperatures simultaneously. Communications include SCADA ready outputs, dry contacts for local annunciation, and a RS232/485 port.
The TD-2 is housed in an 8" X 10" X 6" NEMA 4x windowed enclosure. The enclosure is designed to be mounted on an existing transformer control cabinet. Ambient operating temperature range is -40 degrees C to 70 degrees C. Temperatures are obtained using 3 single Pt100 RTD magnetic surface mount sensors.
Power requirements are 120 or 230VAC 50/60Hz. The analog outputs can be connected to an existing SCADA system. The analog outputs supplied are 0 - 5 volts dc, 4-20ma or 0-1ma "switchable". The TD-2 is designed to meet IEEE/ANSI C37.90 surge specifications for protective relaying applications.
The TD-2 is shipped complete with 3 single Pt100 RTD magnetic surface mount sensors, each with 24ft SJT jacketed uv treated cable. Nema 4x windowed enclosure.
TD-2 Options:
Thermowell probe instead of magnetic surface mount sensor.
Barrington Consultants, Inc.
2239 Valdes Court, Santa Rosa, CA 95403
Tel 707-527-8254 · Fax 707-542-9730 · Email ghb@barringtoninc.com

© 1999-2018 Barrington Consultants, Inc.

Site Design by Pacific Web