This unit is out of production.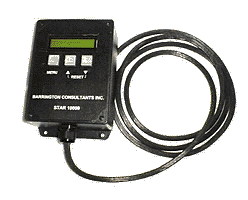 The STAR 10000 (Slow Trip Alarm Relay) is an on-line trip timer for substation circuit breakers. The STAR 10000 will time from 0 to 9999 milliseconds in 1 millisecond increments. The last 8 operating times are stored in non-volatile memory and are easily displayed by pressing the menu pushbutton. Timing begins at trip initiation and ends at trip (b seal closing) completion. There is an adjustable quiet-down period after each timing operation. This allows the timer to ignore high speed reclosing operations. If the time before inhibit is beyond the trip time setting, the timer will pick up an on board auxiliary dual contact interposing relay. There are two isolated dry contacts (normally open) for alarm and SCADA uses. The alarm contacts have user settable delays and alarm pulse widths which provide multiple user alarm options.
Power requirements are 28-140VDC on all inputs. The timer will start timing upon sensing the trip signal voltage and stop timing when voltage to the timer stop (inhibit input terminals) is applied. The stop (inhibit) voltage required is also 28-140 VDC.
Barrington Consultants, Inc.
2239 Valdes Court, Santa Rosa, CA 95403
Tel 707-527-8254 · Fax 707-542-9730 · Email ghb@barringtoninc.com

© 1999-2018 Barrington Consultants, Inc.

Site Design by Pacific Web