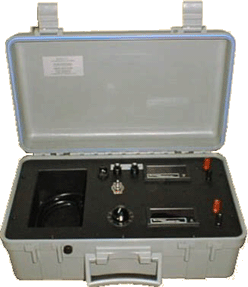 The CS-1 was designed to be a convenient, light weight calibration source.
Typical uses are:

A calibrating source for ammeters and voltmeters at electric utility generation, transmission and distribution substations.
Determining minimum pick-up and drop-out of auxiliary relays.
Variable voltage and current source
A three position switch (center off) selects voltage or current output mode. The corresponding digital meter is energized indicating the active output mode.
Input power required is 110Vac.
The CS-1 is shipped with 110 VAC input power cord and test lead set. The CS-1 is precalibrated and ready for use.
A one year replacement/repair warranty is included.
Barrington Consultants, Inc.
2239 Valdes Court, Santa Rosa, CA 95403
Tel 707-527-8254 · Fax 707-542-9730 · Email ghb@barringtoninc.com

© 1999-2023 Barrington Consultants, Inc.

Site Design by Pacific Web